More Information
Moraira historically had been a fishing village but the modern day town is built heavily around the tourism that comes during the Summer months. A highly sought after area that offers itself perfectly to both holiday properties and long term living, the time has never been better to
buy a property in Moraira
.
Hot Property Spain - Property Sales In Moraira
Hot Property Spain is a long established estate agent in Moraira and we pride ourselves in a personal service that has not only ensured our clients have found their dream homes in the town but that we have been able to relieve much of the stress and uncertainty that can come with moving to the Spanish coast. Please see our guide to all that Moraira has to offer below:
History
There is evidence that there has been human habitation in Moraira since 15000 BC and objects have been found in Cova de la Cendra to confirm this. Barbary pirates raided the coast during the 16th Century and, for this reason, look-out tower was built on the Cap d'Or. This tower has been restored and can be reached from the sea front at El Portet.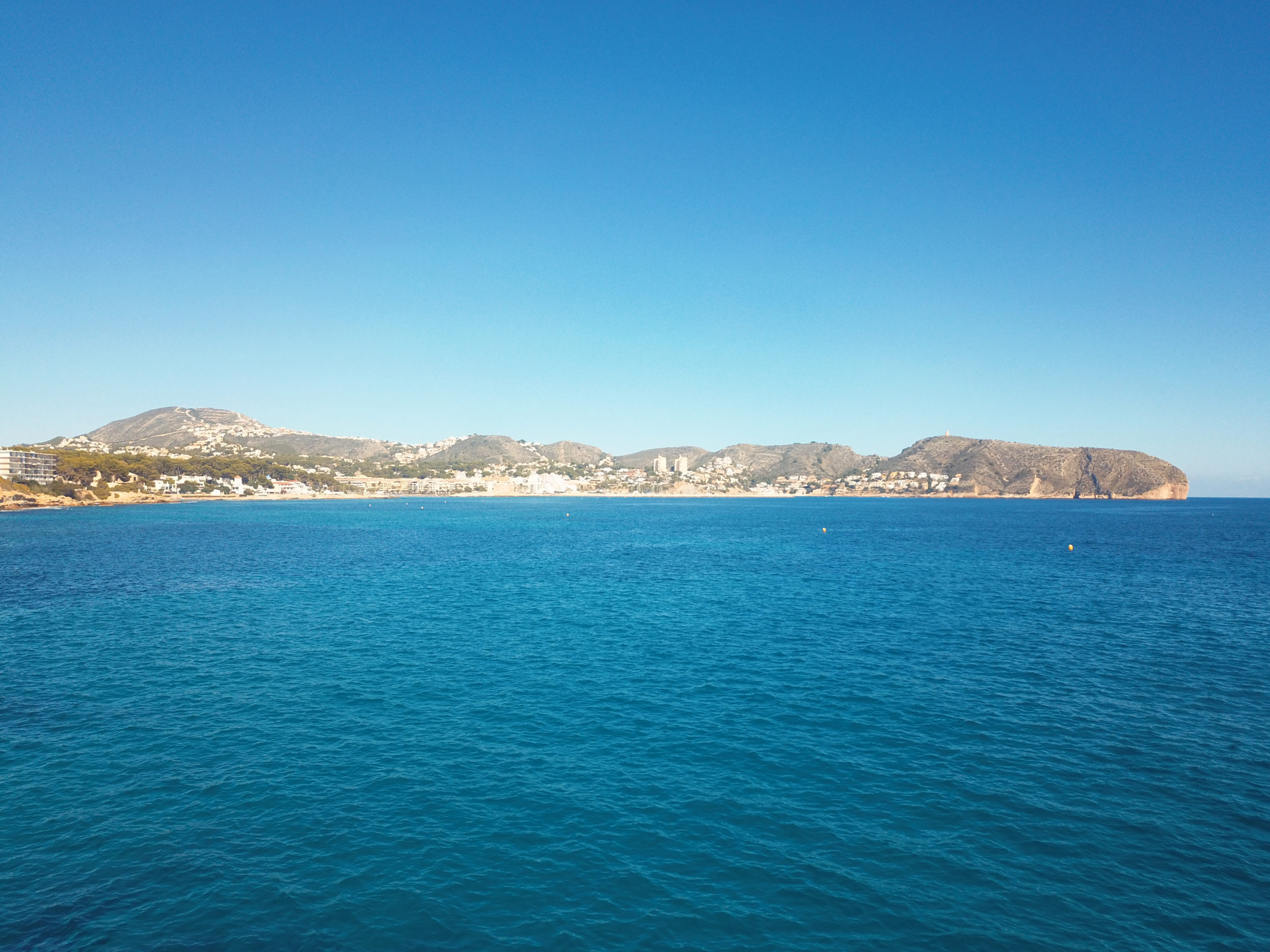 The centre of Moraira is dominated by the Castillo de Moraira which was also to protect the coast from barbary pirates in the 16th century. It is still a very much treasured feature of Moraira, even though it was badly damaged by the British fleet in 1801. At the end of the 18th century, crops were exported by sea from the ports of Moraira and El Portet but gradually the local people turned to fishing and the small houses used for tackle were enlarged to become fisherman's houses, which led to Moraira becoming a village. Moraira covers an area of 32km2 and has 1000 hectares of vineyards in the hills, with a further 2000 hectares under cultivation. Moraira has a Mediterranean climate and the area averages approximately 3000 hours of sunshine, with an average temperature of 20 degrees. In 1986 the World Health Organisation declared that the climate in Moraira was one of the best climates in the world.
What Can I Do If I Buy Property In Moraira?
When you live, or are on holiday, in Moraira you will find there are endless things to do to enjoy one of the Mediterranean's most attractive locations:
Beaches In Moraira
There are two main beaches in Moraira: L'Ampolla, next to the castle, and El Portet, on the far side of the port. Both have gently shelving sandy beaches and are perfect for children. L'Ampolla has a play area, toilets and lifeguards in summer and a beach bar that has an adjoining restaurant. El Portet is long and thin and is backed by a small selection of places to eat and drink.
Out of season, the beaches are great to visit as there is plenty of room for ball games and picnics.
In the middle of the two beaches is the Port. This is still a thriving fishing port which supplies many Moraira restaurants with the 'catch of the day'. The Port is also home to some of the most luxurious yachts that sail the Mediterranean. When viewing property for sale in Moraira you can often rent or book time on these yachts to explore the incredible coastline further.
The drive along the coastal road from Moraira to Calpe reveals lots of hidden rocky coves and small beaches, often with a bar or two where you can unwind with a glass of something and a fantastic sea view.
Watersport In Moraira
Moraira is the perfect location for year-round watersports including: diving, snorkelling, paddling, kayaking, jet-skiing, sailing, body surfing, fishing and boat trips. And of course, for the less energetic, a leisurely swim in the calm Mediterranean waters of Moraira is a great way to relax.
Owning a property in Moraira
means you can take part in these activities for most of the year as the climate is so mild.
Walking in Moraira
Moraira is more than just a tourist and Costa Blanca fishing town. There are a variety of breath-taking walks around the Moraira area including:
El Portet beach to Cap D'Or

Cala Llebeig to Cala Moraig

Ampolla beach to la Fustera beach

Teulada to el Barranc de Xurra
For more information contact the
Moraira tourist information
centre, , or take a look at
Wikiloc
for in-depth detail about some of the different walks available.
Dining In Moraira
The restaurants in Moraira offer a variety of international cuisine: Spanish, English, German, French and Italian, Indian, Chinese ….. so you are sure to find something to tempt you. There is also a selection of local freshly caught fish at many restaurants. And just because this is a stylish resort does not mean children are not welcome at the restaurants, most menus offer variations of main dishes for children.
Fiestas In Moraira
The Moraira fiestas take place in July and are a chance to let your hair down and celebrate with the locals. Streets are lit up and decorated and parades take place throughout the streets. Fireworks are in abundance and the spectacular displays are not to be missed. There are also many other fiestas throughout the year, visit the tourist information site for more information.
http://www.turismoteuladamoraira.com/
Moraira Market
On Friday mornings there is an excellent market held in the main town car park. Here you can buy traditional Spanish handicrafts, leather, jewellery and clothing. Local fruit and vegetables are also sold in abundance here, so it is definitely worth making a visit if you plan to stay long term. There are a number of fantastic stalls selling locally grown produce at a fraction of the price you would pay in the supermarkets, as well as other stalls selling dried fruits and nuts, where owners will usually let you try before you buy. For book lovers there is also the Teulada Moraira Lions Club stall, which sells a wide selection of second-hand English language books for 1 euro. You will find the stall there every other week. We hope that
when buying a property in Moraira
that you can truly enjoy this incredible town to the fullest. Whether you visit several times a year or want to integrate into the local community, this is a Spanish town with charm and beauty everywhere that you look.
Property For Sale in Moraira
If you are unsure about which of the properties you would like to view then why not either visit our offices or we can offer
our exclusive finders service
. Sit back and let our friendly team use their experience and knowledge to find you the perfect property for sale in Moraira.